This week we updated a customer's Exchange 2010 DAG servers to Exchange 2010 SP3 UR5. The customer have a lot of user mailboxes which is shared by groups of users and these users have full access to these "group shared" mailboxes. Every user that had Outlook 2010 the mapping to this "shared" mailboxes failed with following popup error.
"Unable to display the folder. Unable to open folders, Logon to the Microsoft Exchange failed."

And resulted duplicated mapping to the "shared" mailbox.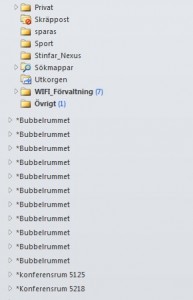 Resolution:
Update user's Outlook 2010 to Outlook 2010 SP2.